9 Feb 2012, 3:32pm
by
LilTanGurl
12 comments
Categories:
A Day In The Life Being Authentic My Man of Steel
Tags: burrito cold flower flowers food game goat goat kids happy happy happy joy joy Kleenex learning experience life love orchid other than that sick spring Taco Bell weather Words with Friends
so Isaiah thinks I should blog… but I don't really have anything to blog about…
I've been sick for like a week now… got a damn cold that I'm trying really hard to not turn into something worse like the last one I got…
other than that… I am totally loving the new Kleenex Cool Touch tissues… they are saving my poor nose!
other than that… nothing else going on… altho Isaiah's goats had kids… three within the last week.  whoopy.
other than that… I don't have any photos to put up…
which makes me sad.
other than that… I'm  really looking forward to spring… like it could be here in the next minute and I would be so very happy!!
other than that… I've been playing Words with Friends pretty constantly… which is what happens when you have like 20 games going. O.o
other than that… the lil bud on my Orchid died and made me sad!
we were so hoping it would bloom on Valentine's day since that is when Isaiah got it for me last year!
other than that… I'm so happy that like Taco Bell brought back their beefy crunchy burrito… omnomnom!
other than that… all of it… I LOVE my husband! he's the bestest ever! ♥
yah so other than that!
with smiles,


19 Apr 2011, 9:13am
by
LilTanGurl
3 comments
Categories:
Photography The Boardwalk
Tags: Airplanes amazing! B.O.B. beach blog camera clouds Connecticut country ER hospital life lyrics music Nikon P100 photos sand shadow shooting stars sick song sun sunshine The Boardwalk walk wish
I have 4 other drafts sitting in my admin that are full of photos that have been taken over the last couple of weeks and dang they are some freakin' epic shots… just sayin'
These ones are from the last couple walks at one of the prettiest places ever, the Boardwalk…
*can we pretend that airplanes in the night sky are shooting stars? I could use a wish right now*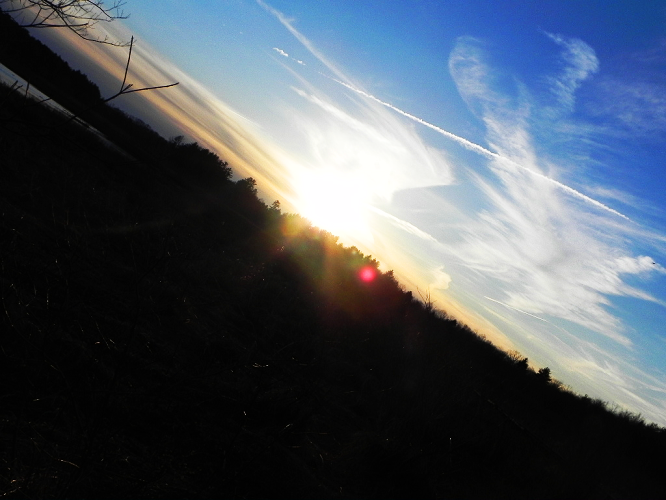 How can you not just stand and stare and love this view? ♥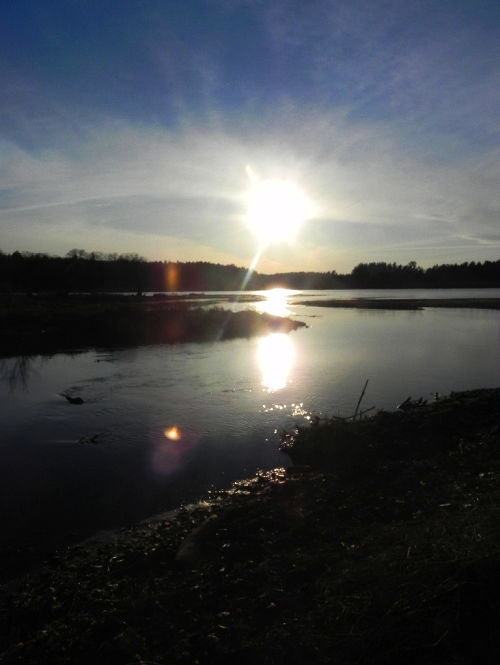 We went on this inlet that I actually didn't know was accessible on this walk… I really really liked it!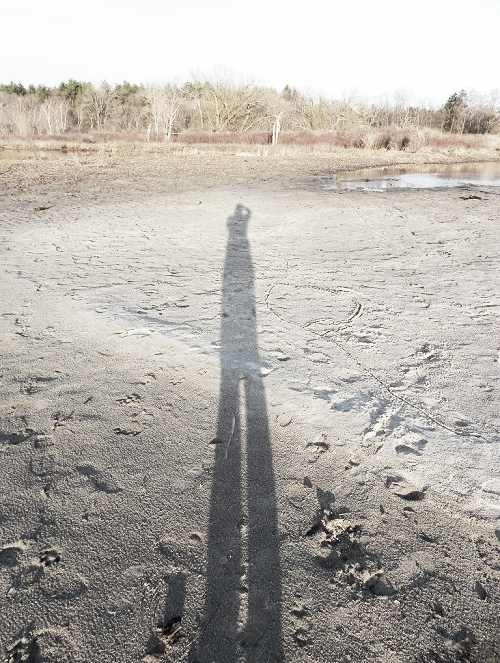 I love beaches and sand and my shadow! Just me and my shadow…
Hopefully since I'm not sick and not in the ER from being sick I will be able to blog more… but then again… I'm leaving for IN tomorrow and have sooo much to do while I'm there… I do want to blog tho.
with smiles,


18 Jan 2011, 2:25pm
by
LilTanGurl
12 comments
Categories:
My Man of Steel Photography Simple Woman's Daybook Sunshiney Life
Tags: Aeropostale Atonement camera clothes flowers Ian McEwan Isaiah and I iTunes life Maurices OP photos sick snow Superman weather
Outside my window… it snowed again… nuff said!
I am thinking… how much I am ready for spring!
I am thankful for… Isaiah not being sick anymore!
From the learning rooms… trying to stay not sick!
From the kitchen… nothing… not really hungry
I am wearing… Aeropostale jeans, Aeropostale black cami, Maurices bluish grey long sleeve, OP black zip jacket, and black knee high boots.
I am creating… nothing except trying not to get sick
I am going… to NOT GET SICK!
I am reading… Atonement by Ian McEwan which didn't really get much read last week.
I am hoping… that this sickness leaves! and the snow melts!
I am hearing… my iTunes playing.
Around the house… cleaned it earlier! =)
One of my favorite things… Isaiah not being sick!
A few plans for the rest of the week… not getting sick, going to the library, not sure after that.
Here is a picture for thought I am sharing…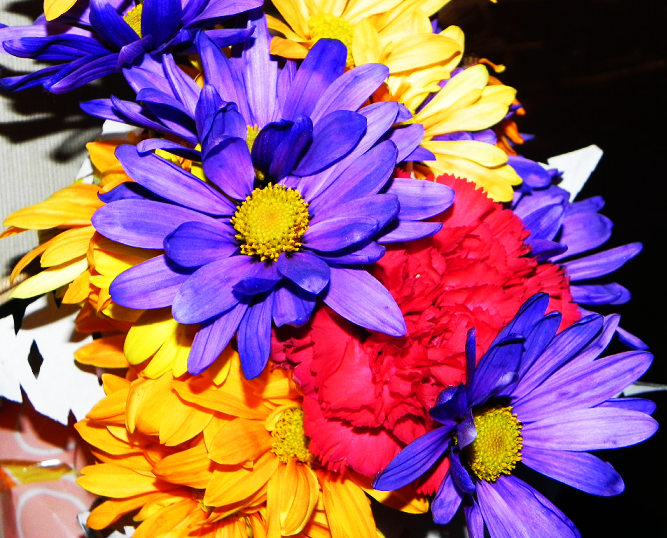 'Superman' flowers from Dad Jenkins.
What does your daybook lookin' like? =)
with smiles,


14 Jan 2011, 7:07pm
by
LilTanGurl
10 comments
Categories:
Photography Sunshiney Life
Tags: Apple Connecticut country Dell Vostro fixed iPod Touch laptop life phone photos Samsung Exclaim sick snow snowstorm sunshine Swift our baby weather winter
Don't ya just love winter? yah… me either! =X Actually hate is more the word I like to use when saying how I feel about winter… Its wayyy more appropriate! LOL! Anyway… So last week Indiana got 40in in one day! A freakin' record! Glad I wasn't there… then I kept seeing how everyone was getting buried in snow in Alabama, West Virginia, Oklahoma, etc, and was glad we didn't have very much snow as it was almost melted from the last storm. Well… two snowstorms decided to come together… RIGHT OVER Connecticut… *FAIL* So we got double the whammy! oh happy day! =( yah… it was a huge storm and snowed for like 16hrs straight! =( not cool!
So Isaiah stayed at his house in town so he knew for sure he would get to work on time, while I stayed at his parents. It started snowing at like 11pm and by 11:30 there was already 6-8in.
Anyway… this is what happens when it snows for that long straight! And even tho I totally hate snow and cold, I love my Nikon even more, so I HAD to go use it!
that lil' black spot in the back middle is the Superman's mirror… =O exactly!
Even Swift who usually likes to play in snow for a bit didn't want to go out! Kenton was gonna take her out to play and they went out for like 10seconds and she came running back to the door! LOL!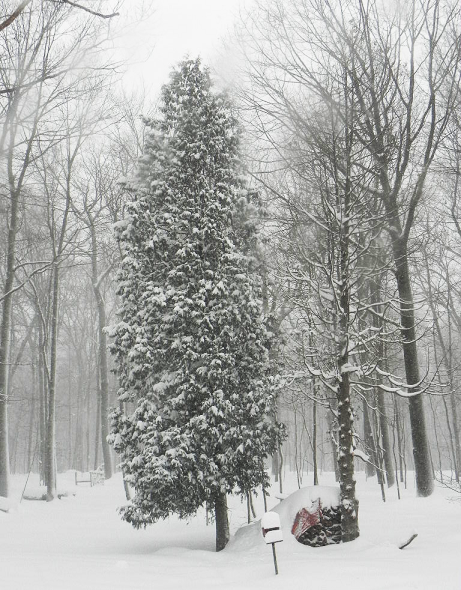 while its snowing…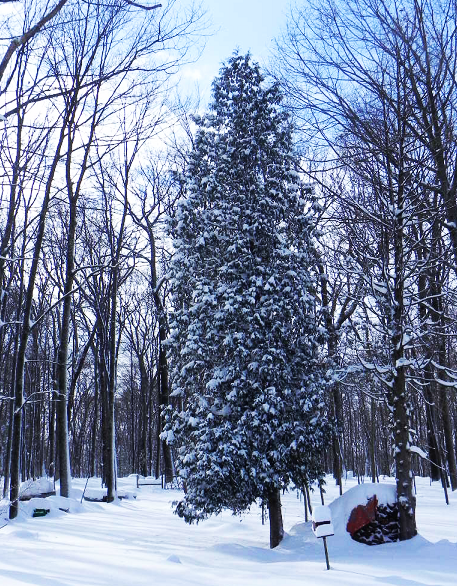 after it snowed…
Luckily it was snowing mostly at night, but there was so much of it that there was a ban on driving unless you were like medical personnel etc. So that meant no driving to pick Isaiah up from work! =(
the glorious sun after the storm… I love how the sun comes out after storms… =)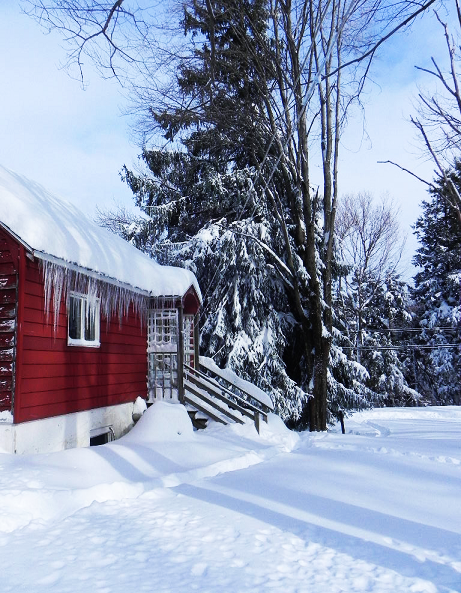 Look at all that freakin' snow! (blah) but lovin' the blue skies! (yah)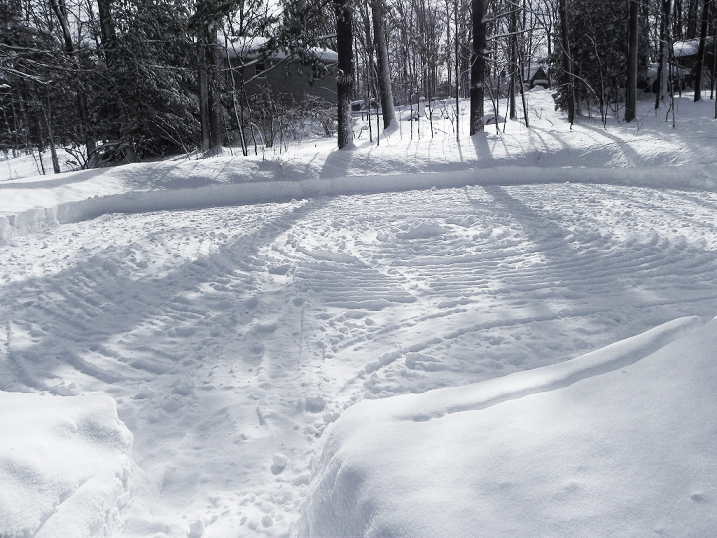 the pond… Natey and Kenton snowblowed it and made this really cool design!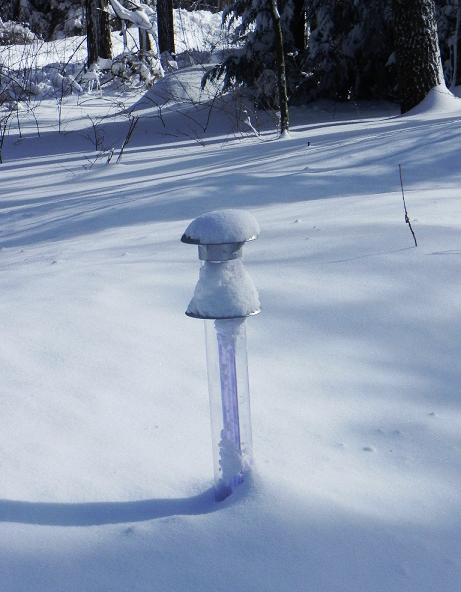 the solar thermometer almost buried…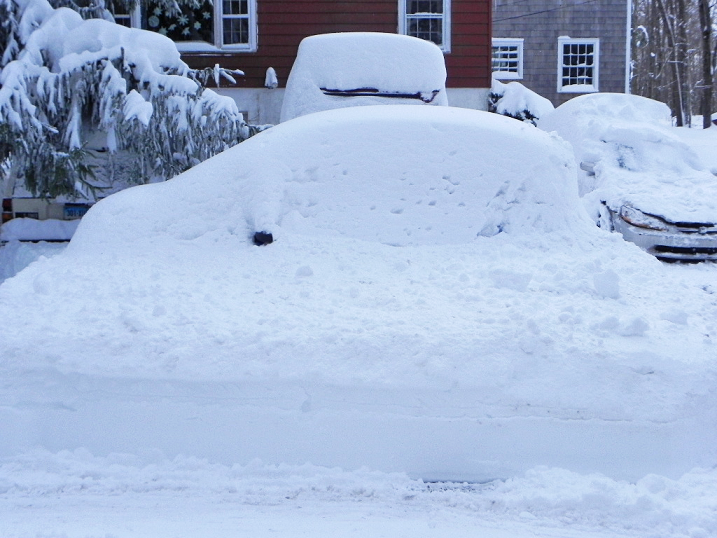 the Superman completed encased in snow… Natey and Kenton unburied it for me… SO I COULD GO GET ISAIAH! ♥ *YAY!!* =D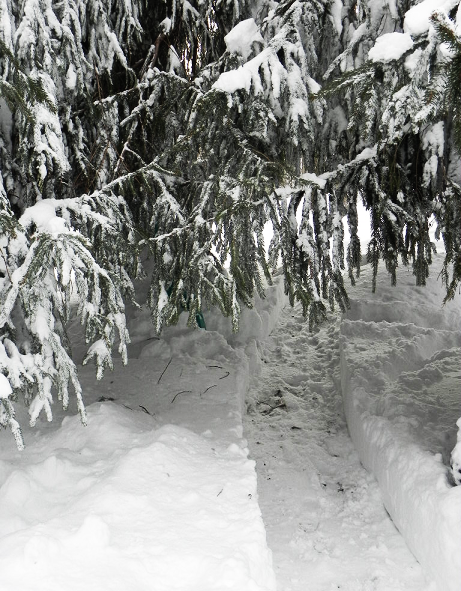 And then I was finished being out in it… took enough photos… now hoping it'll just melt away! Doesn't look like that'll happen tho because we are supposed to get even more snow! oh joy! NOT! *sigh*
So all that snow is the reason, I've been kinda not around… being snowed in, isn't really all that great!
in otherly news… I gots my iPod Touch fixed! *happy happy joy joy* the Apple dude said all of the spokes were there, so it must've been my cord. He restored it and its working great! *w00t!* I am sooo happy! Now if only I could find somewhere to get my Vostro hinge fixed and my Exclaim would stop doing what it's doing, everything would be working right again! =D that would make for an extremely happy Manda!  anyway… keep all of us in your prayers please… there is a bug going around that almost everyone has gotten sick with! Thankfully not me! but my Love is miserable, and it just sucks to see him like this! =(
keep smilin'!